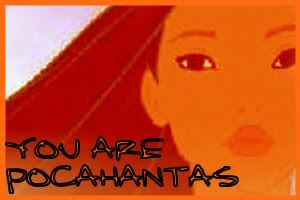 Free-spirited and wise. You have a strong passionate spirit that touches and changes all who know you. The wisdom and common sense that you have is really what guides you through life. Even so, you also have a very playful side that loves adventure and excitement.

Which Disney Princess Are You?
I got this from my sister n' law Nichole's blog. I was curious which one I would be. I have to say I am pleasantly surprised. Sleeping Beauty is my favorite Disney movie but I have to say Pocahontas is my favorite princess. When I was younger I never pretended I was a princess, I wanted to be an Indian! You know like on Dances with Wolves the white girl that was raised by Indians, that was my fantasy. And how could I not like a princess that runs through the woods, in rivers and talks to trees & animals(granted I'm not a huge pet person, but if they are in the wild where they should be, I love them)! So Yea for Pocahontas... I don't about the desciption part about common sense and wisdom though. I might be a quiet, shy person but I definitely LOVE a good adventure.
What do you think is Pocahantas a good match for me?